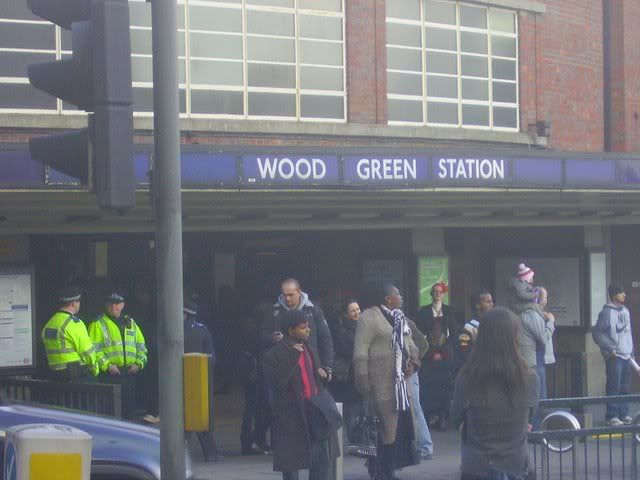 I stand beneath the station signage and G heads across the road to get a wide shot of the curved frontage. As he's firing off shots one of the bobbies peels off and heads across the road. I immediately think he's on an intercept course with the tall fella, think I'm just being paranoid as copper isn't in any kind of hurry, and am proved right as copper catches up with G on the traffic island and conversation ensues. Fuzz talks to G, G turns to point at me, and I give a cheery wave back, Fuzz pulls out paperwork. I can't just stand there, so take a stroll over to discover that G is getting a stop and search for the suspicious behaviour of taking photos of a local landmark in full view of a handful of police. How dumb a crim would he have to be to be standing on a traffic island, wearing black, being an inconspicious six foot bleeding seven, carrying out nefarious activities with the police in their day glow stylishness being right bloody there? ...anyway, after losing my cool with the community policeman that stopped B taking pics at Waterloo, I remain chipper as G is written up. I'm keeping the documentation as a Tubewhore artifact. Helps that G has interesting ID to show...
Not living in London myself anymore, I hadn't seen the poster campaign urging Londoners to report people taking pictures of landmarks. Seriously, what the hell is going on? We seemed to have slipped sideways into Eastern Europe during the cold war where we're being encouraged to rat out the hordes of Italian exchange students taking photos of Nelson's Column. There seems to be
plenty of online backlash
, but in all seriousness this new approach of civilain surveillance is desperately concerning. Who needs terrorists when we just have media hysteria to do all their work for them. Amusingly, back underground - where we take loads of pictures thankeeverymuch...I spot a page from 1984, which has been photocopied and stuck up around the platforms; how very apt.
...this does mean that exterior shots of Wood Green were limited to what we got before police intervention...when I do Arnos Grove and Southgate, I'll get more wide shots of the Wood Green station itself as it's rather lovely.
Downstairs continues, and indeed expands, the vague Egyptian feel of the line, as the tiling colour are green and cream stripes reminding me of death masks and such-like. Not so shiny and refurbished as Bounds Green though, but I also sort of like the scuffed-up grubbiness. London is supposed to be a bit care-worn and battered looking...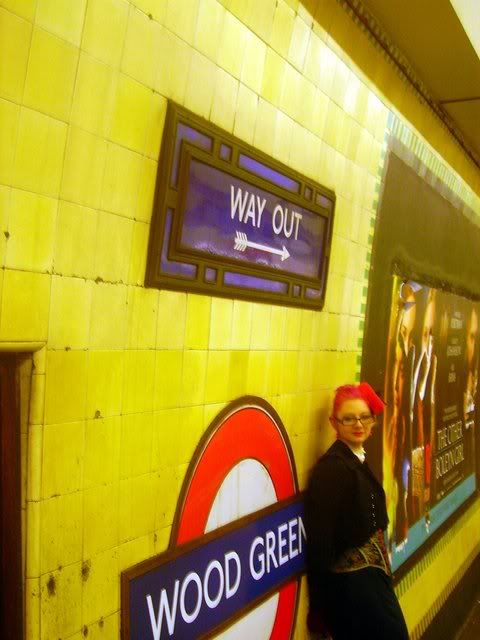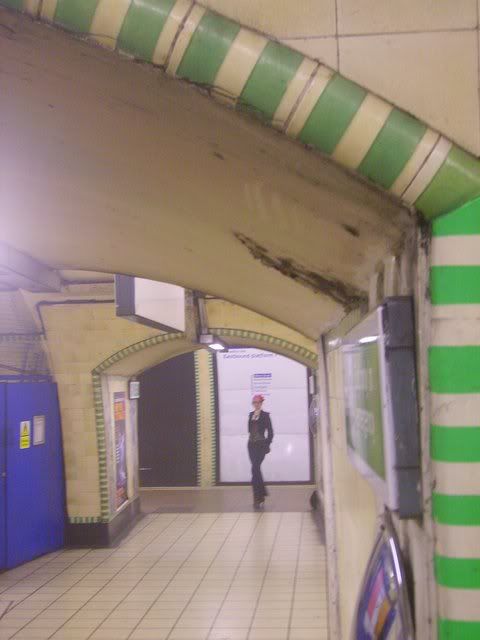 grubby edges...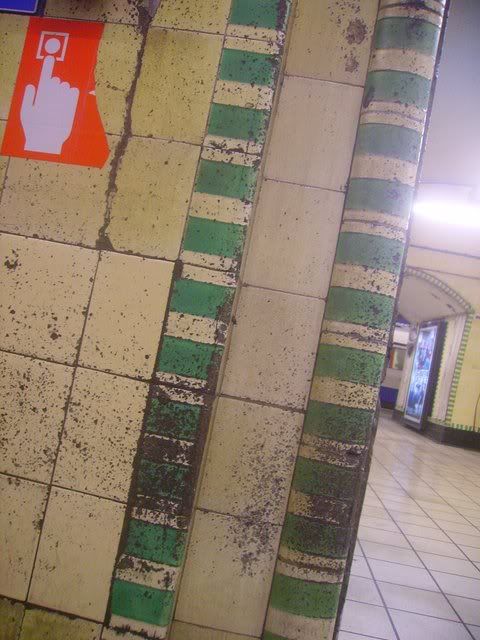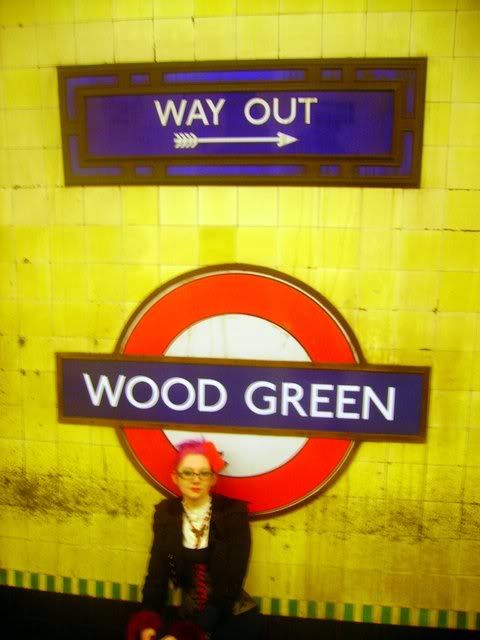 So, after a brief stop in Bounds Green we trundle back down to Wood Green. Home to BBC rehearsal rooms etc. As soon as we pop out upstairs I notice a bevy of hi-vi jacketed police, and in these security conscious times, wonder if this will prove an interesting occasion. I am not to be disappointed.