I have been a virtual hermit for most of 2013, so I would also like to rediscover having some sort of life. Picking this project up again should be part of my reconnection with the world.
Meanwhile, the bunnies need re-homing, so they are for sale. Currently 200 are on show at the University of Exeter as part of their programme to showcase more contemporary art, and I'm selling at the Marker Emporium and Maker Junction in Plymouth until the 8th December.
Here's my artist's statement for the grad show:
"Sue Bamford is an artist working with textiles; recycling fabric and yarn into small scale soft sculpture to highlight issues of over-consumption and unsustainable lifestyles, using a joy in making to re-connect people with their material culture.
1,000 Bunnies aims to create a positive reaction to waste materials. Each is made from abandoned garments from the Eden Project, clothing left behind by visitors to an environmental charity. The bunnies ask to be picked up, to be cherished, and make you re-evaluate your relationship to waste. In this, a bunny becomes a non-threatening carrier of a burdensome message that we simply don't consider the enormous environmental and human cost of clothes-making.
Within a contested landscape of environmental politics, people can be overwhelmed by conflicting information, the sheer scale of the problems, and the possibility of a personal capacity to create change, Sue's work aims to explore small-scale actions with a practice based on the idea of a joyful expectation of failure. Know that your actions won't single-handedly change the world, but do it anyway. It is the attempt itself that is valuable.
In her specific case, the actions are both personal – being a positive example that having less, mending and making things can be a source of pleasure and well-being – and practical – sharing those skills with others through workshops and community events.
These actions might be small, as one stuffed bunny is small, but 1,000 Bunnies shows physically the results of a repeated action. In this 1,000 Bunnies acts as a visual metaphor for the repeated small actions towards sustainable living.
Download instructions to make your own bunny from her website: www.bunnylove.co.uk "


Now I just need to get my shit together and update the bunnylove website with the 1,000 bunnies rather than the 400 from last year at Eden, and re-write a ton of things on it... but it's so much easier to be lazy now that I don't have degree deadlines staring me in the face.
I'm beginning to surface after graduation. It's been a long hard slog, but it is done. And now there are 1,000 bunnies in the world, I have a shiny new degree complete with a distinction, and a special achievement award. What I don't have is a job, but am working on that.
The world bleached to shades of grey and beige by a snow sky, except for moments of brilliant leaping colour from the local graffiti:
Hackney is one of those places in the East End undergoing gentrification. It's not all tidied up yet, so there is, to me, an uncomfortable blending of the hip and the broken. I question who a lot of it is getting cleaned up for? Eventually, when all the grubby poor people will have been forced out from Brixton to Shoreditch, so that media types can have their fancy warehouse conversions in once-edgy places, where will those of us without banker-level salaries actaully live? Where will the office cleaners live?
However, it's not all Hoxton groovsters; we are here for the opening of a new community centre at the old Public Baths - this is a project driven by locals to provide a space for sports and art, designed to be part of a real Olympic legacy. More about it here:
http://www.cre8lifestyle.org.uk/
. There was the most incredible energy buzzing around the place, which comes from a genuine engagement with what people want and need rather than the more usual sop to 'community' that gets thrown into developments at the last minute. I really hope to be able to get back here and run some workshops. I scoffed sarnies with famous athletes...
Ah, nearly forgot obligatory station signage shot:

I'm here for work, so clothes have to be vaguely professional, so am wearing vintage Women's Land Army breeches and tweed...

Under the cut, more images of the local environment. Wabi sabi in blues and greys...
(
snow skies and litter
Collapse
)
Work took me to Hackney Wick recently. A shower of hail had just passed as we arrived at the station, leaving the ground dusted with perfect pearls of snow, crunching to powder underfoot.


However, the project has had unexpectedly positive reactions, so it gets the message out. The studio downstairs is filled with the current pile, to the exclusion of all other art projects, so it's a good thing that tubewhore currently takes up very little space. It's mostly the change in my finances that has put the slowdown on TW, trains fares have gone up, my salary has plummeted. Plus, most of my recent travel budget has been directed further into Europe.

Two weeks ago, though, there was the chance of a work trip to Hackney, to which I could tack on an extra few days sofa-surfing to catch some important exhibitions in the Capitol. In another of my romantic dreams of antique train travel, I booked onto the sleeper service. Forward into the night, into a city adventure...


Bunnies have taken over my life. If I thought last year was dominated by making the darn things, followed by disposing of the pile to raise the funds to go to Egypt, then like a crazy person, I've made it even worse by committing myself to making a bunny-pile more than twice the size of the last one - I think the significant work here is 'committed'. Am I committed to my art, or just in need of medical help. I see them behind my eyes when I go to sleep at night.
The installation is on display at the Eden Project until the 12th April as part of
Hevva! Hevva
! After that, who knows - maybe I'll have to live with several hundred bunnies for awhile, but there's a permanent record of them all at
BunnyLove
. I do need to write up my findings and feeling while they are still fresh, but right now I'm enjoying a bunny-free, work-free day for the first time in ages.
Time for tea.
So it's done, 400 bunnies made. I see them in my sleep, they're behind my eyelids whenever I shut my eyes, but I think it's been worth the labour as the feedback from the installation has been very positive. I wanted to take discarded garments and make them into something people just couldn't help but want to cuddle, and in that I've succeeded.
I've just calculated that in order to have enough bunnies for my project, I need to make at least six a day! EEP!! Got my quota done for yesterday, but today is a Cake and Catsuits day, and later I have to get the clown outfit ready for Sunday. This is going to b a struggle. I can see I'll be sewing on the train tomorrow.
Cape Farewell's
Short Course programme. Following on from the expeditions, we are holding an exhibition in April to share with others what we learnt on our adventures. One of my particular concerns is with patterns of consumption, especially that of cheap clothing, and the human and environmental damage resulting from throwaway fashion.
So...what to make? I've settled on using fabric scavenged from Lost Property to turn into small, slightly wonky bunnies. Waste multiplying. In order to have impact, there needs to be many, many small,slightly wonky bunnies. In the same way that one small, slightly wonky terracotta 'gorm' is but kinda cute,
a full 40,000 of them are intensely moving
. Clearly I can't make 40,000 bunnies - not simply because there isn't the time, and I'd go slightly mental, but there wouldn't be the space. However, I can try to make a multiple of 40,000 so am aiming to have 400 by the 28th March. I'm thinking 400 would make a goodly pile... After the exhibition finishes the bunnies will get sold off to fund an art residency in Egypt aimed at raising awareness of marine pollution.
So far, I've made 56! This morning, I tipped them out onto the bed to see how the pile was coming along...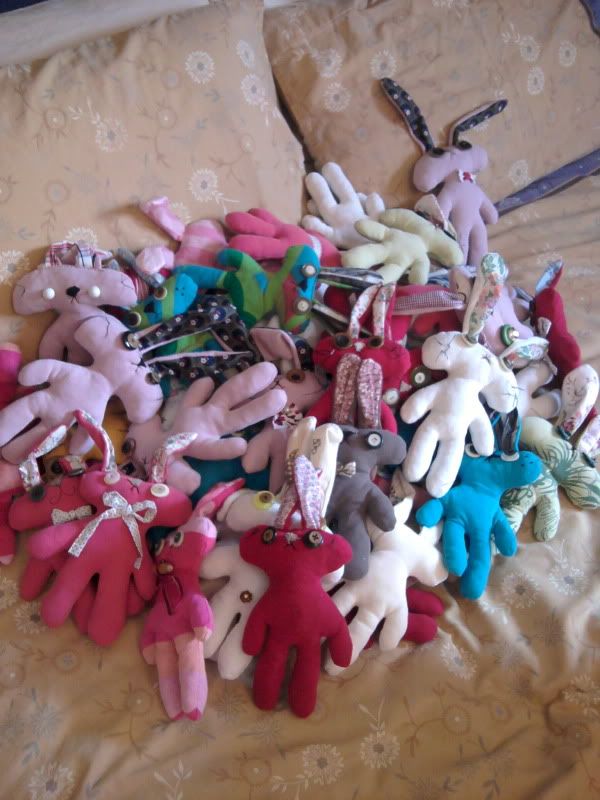 That's about 14% of the total...currently they fit into a single shopping bag, but it won't be long before I'm storing them under the bed, stuffing them behind the sofa, and hiding them in the fridge...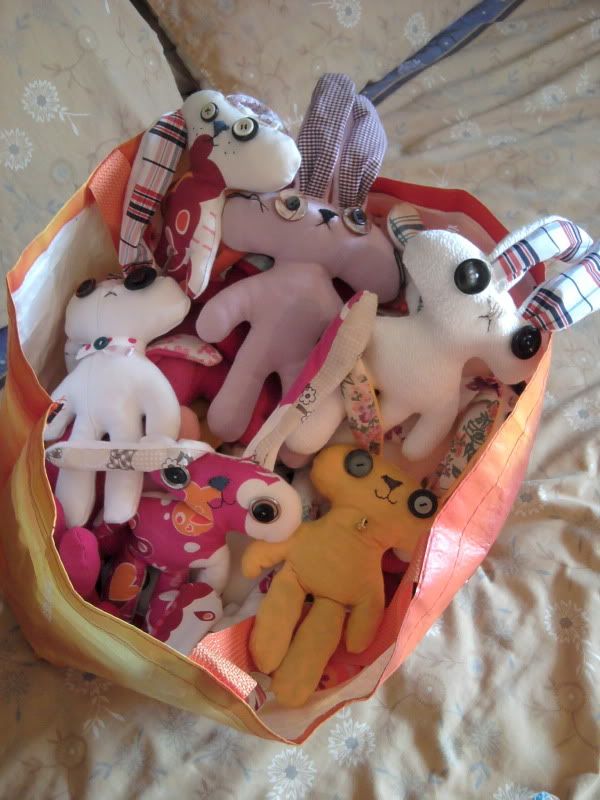 The silly/serious art continues. Last year, I was selected to take part in a series of short expeditions around Cornwall as part of
Anyway, I find deep joy in decorating the occasional lampost with a piece of knitted acrylic. I feel it compliments my crocheted coral pieces, so a few images below to explain what I mean...
Some cotton thread crochet pieces on a Dorset beach - natural forms made from Victorian pattern techniques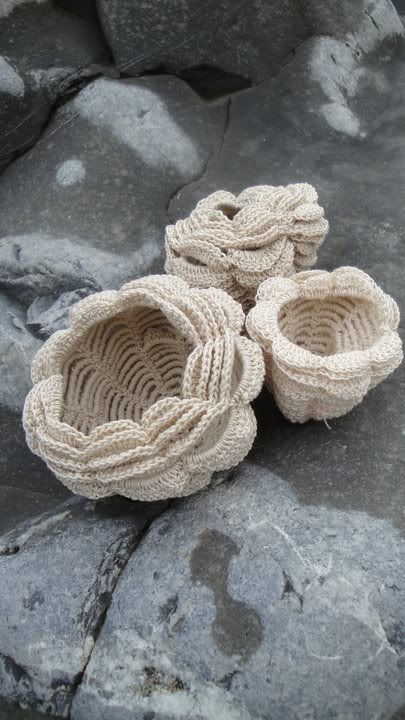 Two coral pieces in waste acrylic yarn...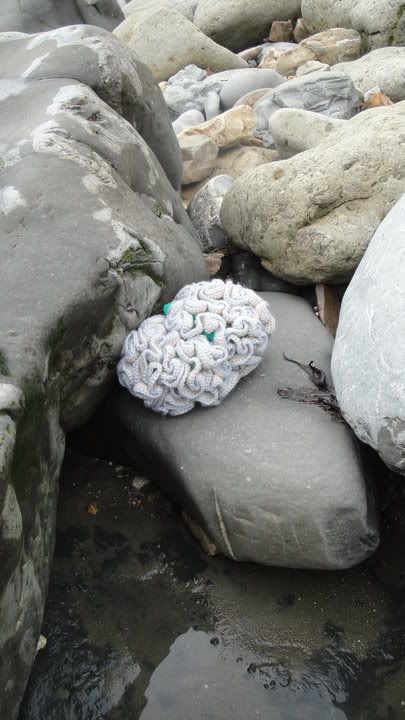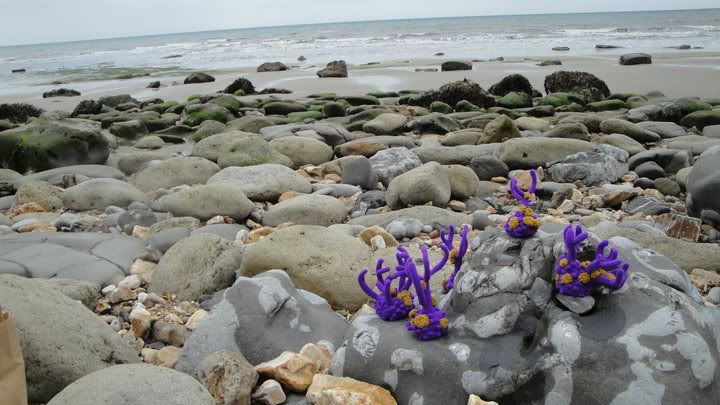 More 'traditional' yarnbombs in Plymouth, all acrylic yarn - some still survive, some lasted mere hours: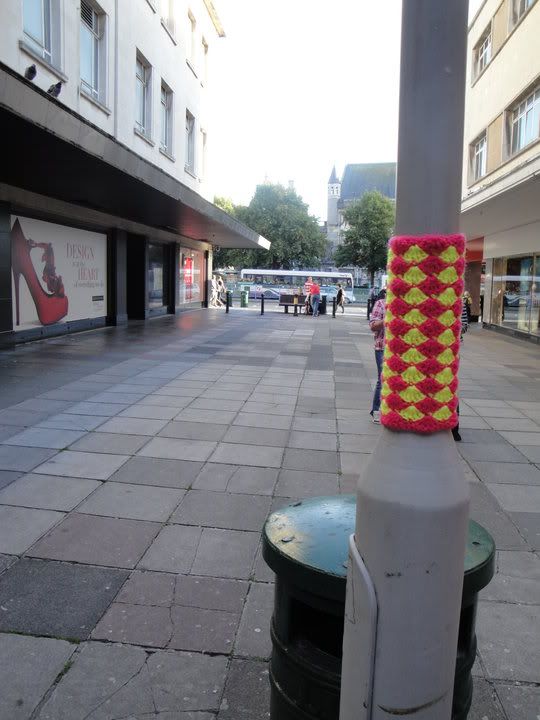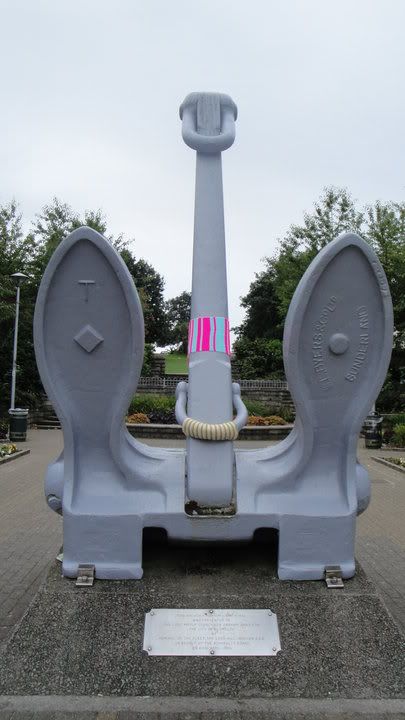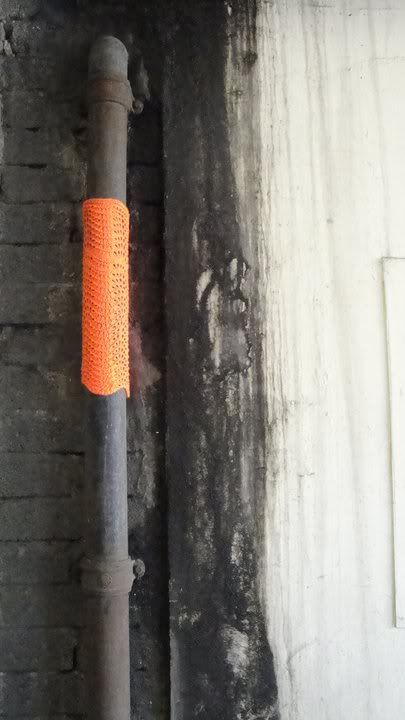 I've been asked about my current college work, and one aspect of it is being part of the global craftivist activity 'yarnbombing' - basically it is about taking pieces of knitting and setting them free is a (usually) urban environment to bring a textile softness and colour to the dreariness of street furniture. For me, interesting debates around the practise include the uses of women's craft activity - many detractors claim that if people have such free time they should be knitting for charities, such as babies and soldiers, not 'wasting' it on meaningless art. I find such comments fascinating and frustrating, and deeply revealing on an expectation of what women should do with their free time, to be given selflessly in service to others...thoughts please?
In point of fact, the slippers Dorothy wore were not ruby, but silver, so I often have to stifle the urge to sing 'there's no place like home', whenever I'm wearing them.
I still feel guilty in claiming Dalston Kingsland as the tube station was shut that Sunday long ago, so I never truly passed through the barriers.
So that's it, time to book train tickets, pack the diamonte eyelashes and head to the big city...maybe make a few pom-poms on the journey...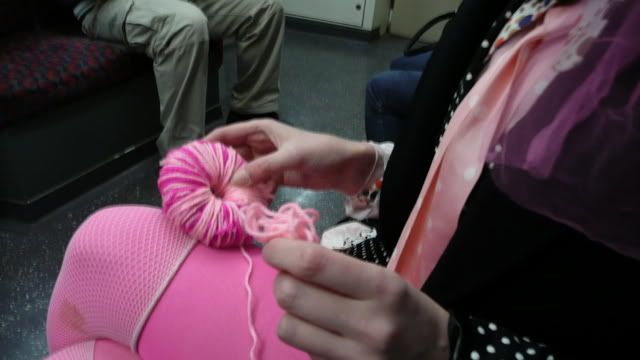 and maybe some yarnbombing over the weekend - I have a urge to crochet up an umbrella: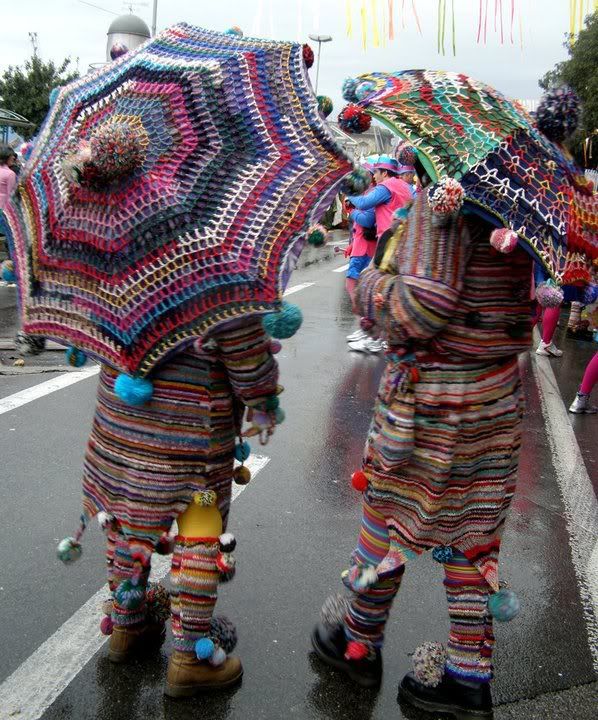 It's nearly time for the clown service in Dalston again - weekend after next, in fact, and I feel that Lady Lacrimosa should venture out in her pom-pommed silver slippers again...
To add to the sense of mystery, there was only one place to visit this far 'up':
Bletchley Park
. According to my records, I was there in 2009, but for some reason I didn't record the date, but it was after Ruislip Gardens in March, and before Mill Hill East/Finchley Central were collected on the 9th August. All else is conjecture.
Some lovely signage at the station: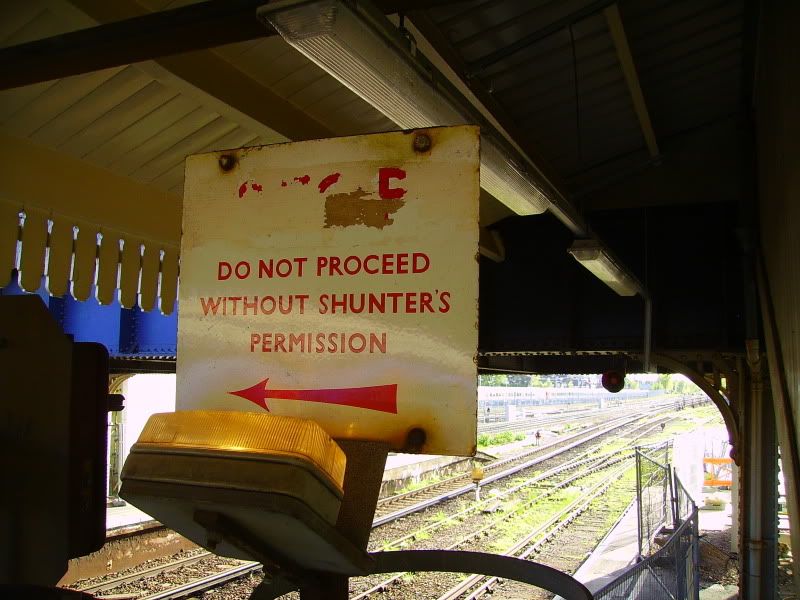 Bletchley Park...it's the bombe! (sorry..)
Bletchley Park is a place I have long held romantic visions of. During the Second World War it was the home to Britain's codebreakers, and many of the thousands working there had no understanding of the true significance of their jobs. And they kept their mouths shut - for years afterwards in many cases, never speaking of the incredibly important work they did in bringing the war to a quicker end, and in our favour.
In this age of tweets and bloggers, can you imagine the same? Maybe something of similar importance goes on now, and ten thousands workers busily defeating terrorism Don't Tell, but I suspect not. Something has changed in our national psyche, in that we live out lives constructed through our social-media identities. Even generationally, it is different between my sense of my world, and that of my 18-year-old nephew, with a need to constantly describe and display one's life for exterior scrutiny and validation. My phone and home server both died on my late last year, and for the best part of six weeks I had no internet / mobile service at home and mostly it was wonderful. A feeling that is of course at odds with my returning to blogging about my tubewhoring around the city.
(
In memory of Alan Turing
Collapse
)
I took squillions of photos, but the computer has hidden them, so only a few of inside of machines for your delectation after the cut
(
wiring heaven
Collapse
)
and finally...obligatory, proof shot from the station (which for some reason, won't rotate left):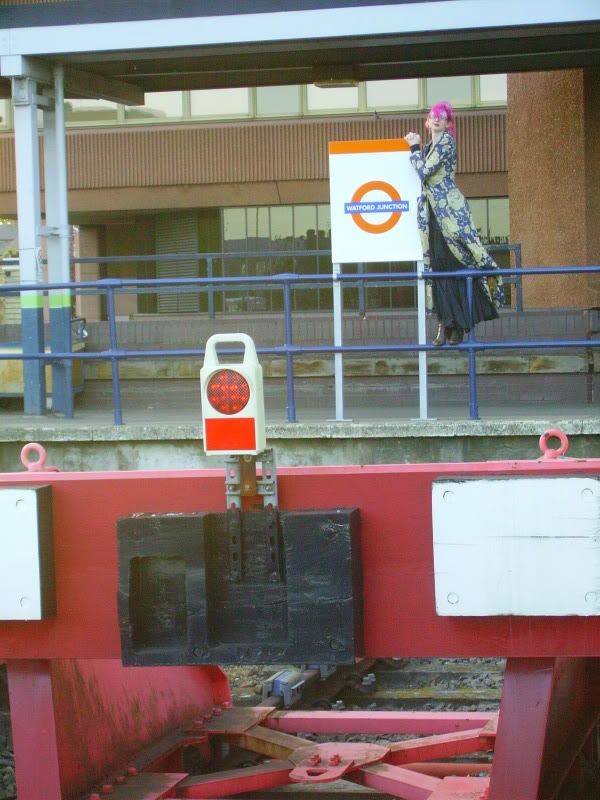 At the top of the Bakerloo line, sometimes and sometime not part of the Bakerloo Line (and now on the Overground), snuggled in a little dip in the fares zones on the tube map, sits Watford Junction. So far is it from the loving embrace of the familiar travel zones, that, emotionally speaking, it might just as well be a little way before the Andromeda galaxy. It is a station where 'special fares apply' which is the transport equivalent of approaching the singularity at the heart of a black hole, where special physics apply and even Einstein couldn't be sure what would happen.


Secondly, I know that recent posts have been nothing more than a bewailing about the lack of posts. 'For recursion, see recursion'. Suffice to say, I am still going on the project, just low on funds and time. I have become slightly obsessed with knitting and yarn-bombing, and most of my work has been in my local area in deepest, dampest Cornwall, but there is hope on the horizon that I'll be able to get back to London before the end of February to continue my travels. Meantime there are stations that I haven't blogged yet, due to tech failures, illness and too many deadlines making my head spin and traumatically apathetic in the face of Too Much To Do.

So I make a promise. An update every Wednesday, at the very least...

I have been hiding in Cornwall, and it's time in 2012 to rejoin the world.
...firstly, I know the quote is wrong, so don't fret over it. It's just that Wednesday is usually my one free day of the week - hence I'm still in my flannel paisley jammies at midday day - but have failed so far in getting on with anything constructive despite all my plans to the contrary...However, I'm due to be on the local radio in a bit, and the idea of doing that in my jim-jams is appealing...